Revise Essay Online: 9 Useful Tips On Essay Revising!
Revise Essay Online: 9 Useful Tips On Essay Revising!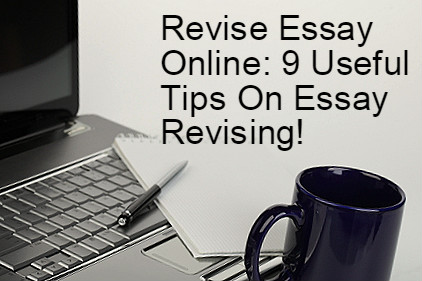 Have you already finished writing your essay and do not know what to do next? Are you torn between going to bed and having a sound sleep or continuing working on your piece of writing and finishing the last step - essay revision? Do you realize that essay revision online may be irreplaceable assistant, especially if you have already spent endless hours on writing your essay? There are two possible outcomes for you in this situation. The first one is the easiest – open your internet browser, type coolcustomessay.com, place a new order and go to bed. You will feel relieved immediately after making an order. Your doubts, hesitations and nervousness will disappear. You will start living your life again! The second way out is to revise your essay on your own. But do not worry too much about it. Our professional writers put all their efforts to create these 9 useful tips for you. Following these tips, you will be able to revise your paper without being at pains.
          So, let us start from the very beginning. You have already written your essay. You still have some time before paper submission.
1. Set aside your essay, have some rest, wait a day or so and after that you will read it again. In order to have additional time for revision of your essay you need to write it beforehand. To be successful, you should always have enough time to check yourself, revise your manuscript and ensure it is flawless.
2. Being a person who is revising a written text is not as easy as it may seem. You may need to read it aloud to detect the slightest errors. Read it again and again, removing grammar, stylistic, punctuation and spelling mistakes, making sure that it is totally error-free. Pay attention to irregular verbs, apostrophes, colons and semicolons, usage of conjunctions, quotations, subject and verb agreement, etc. Look at your punctuation. Pay particular attention to run-on sentences, if needed, commas, usage of conjunctions, such as but, for, since, yet, because, and. 
3. Check your facts, in-text citations and references. Make sure all citations correspond to those in reference list. All fact must be supported by academic resources. Assure you know from where each information comes from.
4. Exclude recurrent/ doubled words that are needless in a particular content. Do not feel ashamed to consult a dictionary of thesaurus to make sure that you are using new words properly.
Avoid long sentences, keep your language short and to the point. A teacher values bright, accurate, expressive and coherent essays. Try to stand by this rule if you want to receive a good mark.
Add more verbs into your content. It will make your essay more vivid, bright and realistic.
Use adjectives wisely. Excessive number of adjectives can make your essay unreadable and pompous.
5. Do not use informal verbs (colloquialisms). If possible, avoid using abbreviations and contractions, for example can't, won't, aren't, etc., e.g. Your essay should be written in a formal language and have a serious tone.
6. Check the word flow. Is it clear and understandable for a reader? Is it easy to follow the main idea through the whole essay? Is each paragraph logically connected to the previous one?
7. Extract information that has nothing to do with your essay topic. You should support the main idea through the whole essay, so there should not be redundant information. The content of an essay should support your thesis statement.
8. Ask someone to read your paper aloud. You can ask your parents, sisters, brothers, or friends to read it aloud and listen. Listening to your essay may help you to detect the tiny mistakes, examine the word flow and overall tone of an essay.   
9. Do not be afraid to change your essay after writing phase is finished. Rearrange passages, if needed, change sentences, rewrite words, add some information. If you change something while revising the paper, make sure that your introduction and conclusion are still valid.
As a result, your essay will be polished to perfection with these 9 tips. Just read it and follow step by step. Anyway, we are always here to help you.